Facilities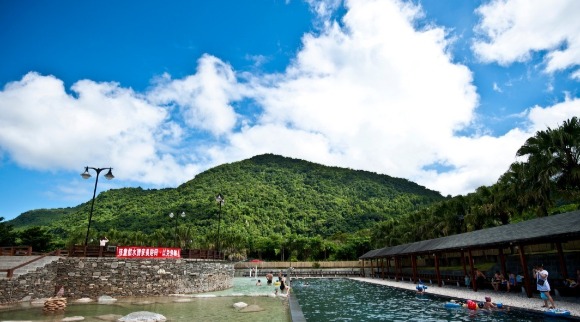 Toyugi Wellness Hot Spring Area
Covering near 10,000 ㎡, the Resort is equipped with a Spa area, an outdoor hot spring area, a rectangular pool, a children's pool, steam rooms, saunas, dressing rooms, and a convenience store. Toyugi provides your family, regardless of age or gender, with a pleasant hot spring experience.
Toyugi's Wellness Hot Spring is a type of weak alkali carbonated hot springs originated from metamorphic rocks, with a pH of 7-8 and temperatures between 39 and 45°C. It is odorless and colorless, and the white flakes are rich in minerals. It is known as "Beauty Hot Spring."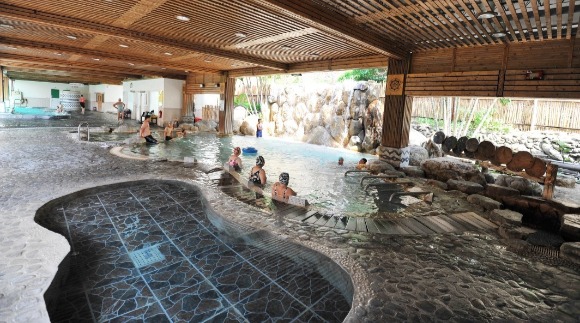 The Wellness Hot Spring Area is open from 08:00 to 22:00 every day. The outdoor hot spring area is open from 10:00 in the morning. The opening times during the lunar new year holidays will be announced separately. If there are any changes in the opening times or rates, the hotel will provide the accurate information without further notice.
---

Spa Area
The Spa Area features several facilities: High-Pressure Spa Jets for Neck Massage, Spa Jets for Waist Massage, Hot Spring Foam Bath, Floating Bath, Bubble Massage Recliners, Cascade Spa, Stone Wall Cascade, etc. The spa jets massage all the pressure points of your body and help relieve your fatigue and stress.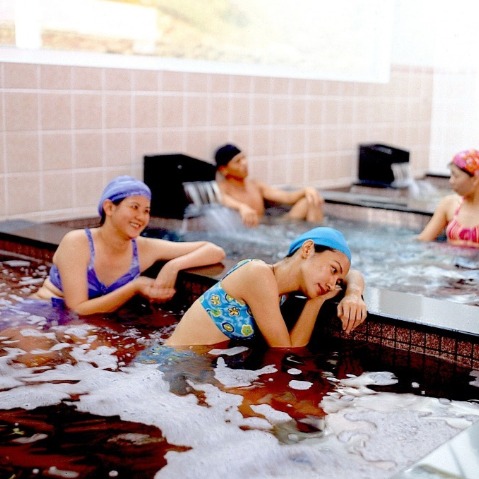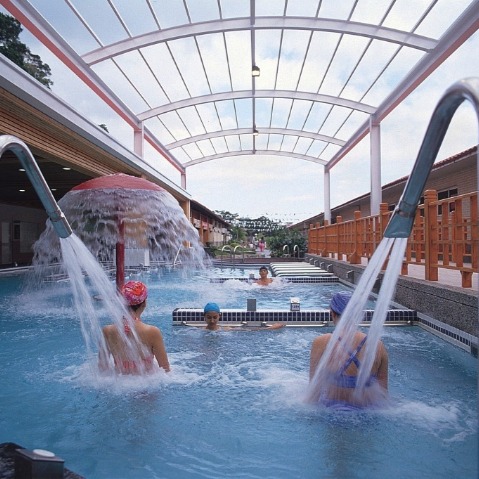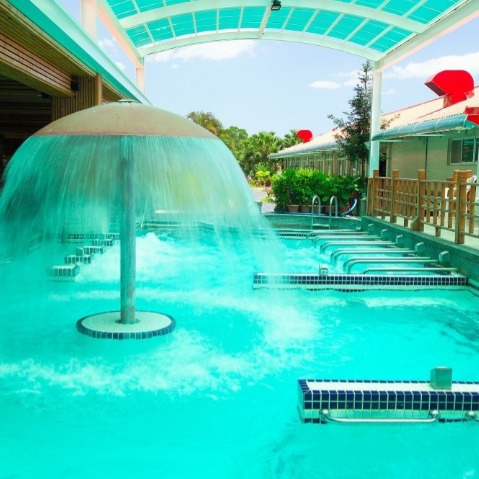 [ High-Pressure Spa Jets for Neck Massage ]
recommended usage time: 3 to 5 minutes
Strong jets splash against your neck, back, and arms to give you a full-body massage, making you feel completely relaxed and instantly invigorated.
[ Spa Jets for Waist Massage ]
recommended usage time: 3 to 5 minutes
Nozzles situated at different heights on both sides shoot out strong jets with bubbles to massage the pressure points beneath your waist, improving your joint flexibility, circulation, and metabolism.
[ Floating Bath ]
recommended usage time: 3 to 5 minutes
The high-pressure water ejected from the bottom of the pool creates buoyancy that supports your body. Together with the water's natural buoyant force, you can float easily and breathe deeply to regulate your lungs. You can also absorb the steam to relax your whole body.
[ Bubble Massage Recliners ]
recommended usage time: 3 to 5 minutes
Air shooting out from the small holes of the ergonomic recliners gently massages your back, bottom, and legs. When the bubbles reach your skin, they pop, creating vibrations that massage your body.
[ Hot Spring Bubble Bath ]
recommended usage time: 3 to 5 minutes
The water's oxygen content is increased, and the bubbles can massage your skin by having contact with it, creating a rejuvenating effect.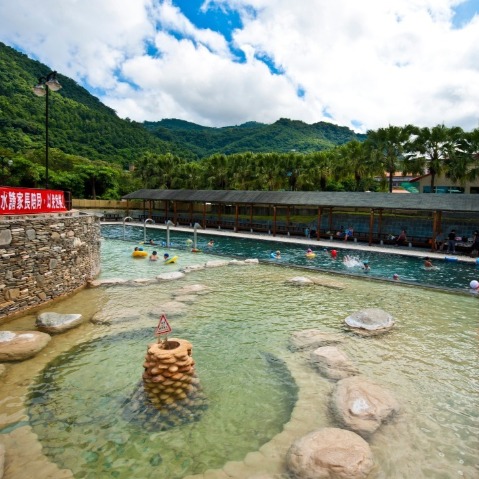 Outdoor Hot Spring Area
Enjoy the purest hot spring, while being embraced by the serene mountainous forest, and surrounded by insect buzzes and birdsong. When night falls, you can immerse in a dream-like atmosphere by soaking in the hot spring under the stars and the moon.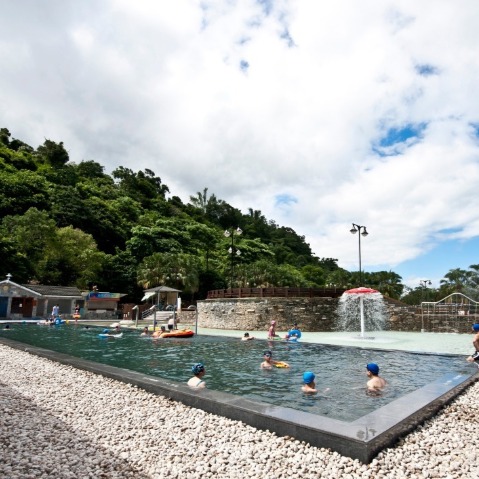 Rectangular Pool
Swimming is an aerobic exercise that involves your entire body, improving your muscle and joint flexibility. For the elderly, swimming causes the least damage to their bones. Those who are used to swimming can still go for a great swim in the pool when visiting the hot spring area. The pool is approximately 120 cm in depth.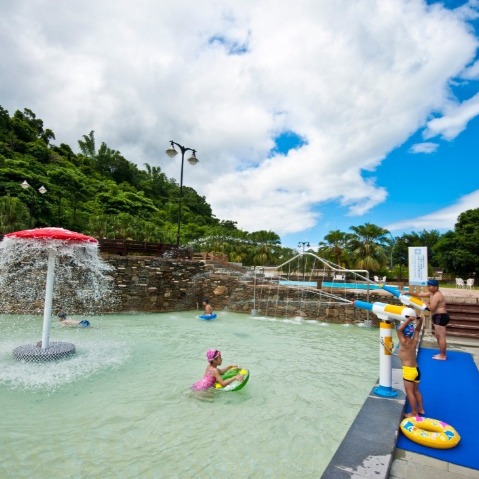 Children's Pool
The children's pool is not as deep as the rectangular pool, and is suitable for children to play in. There are also fun facilities such as water guns and mushroom cascade.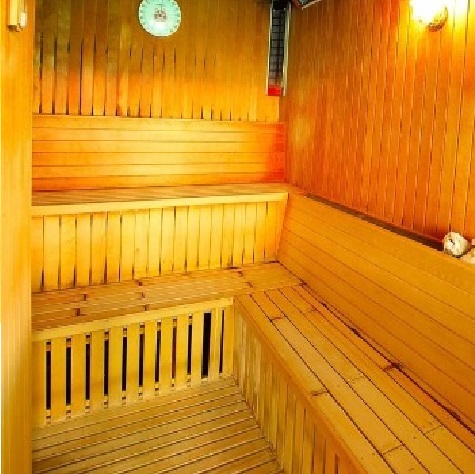 High-Temperature Sauna
Boost your metabolism and circulation.
Recommended usage time: 10 to 15 minutes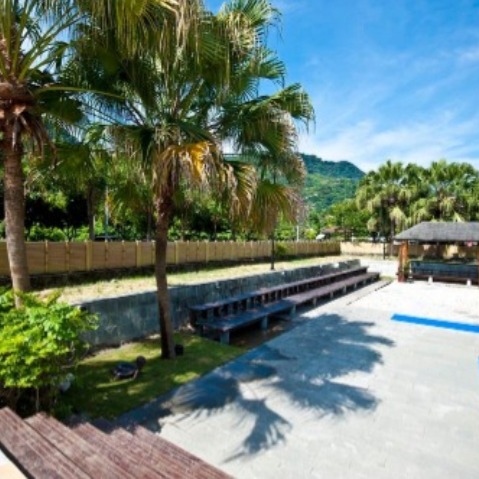 Poolside Rest Area
After soaking in the hot spring, you can rest here, viewing the mountains, basking in the sun, or simply enjoying nature's most gentle caress. Lying on the recliner, you may take a nap or read one of your favorite books. Make good use of this precious vacation. Just relax your mind, body, and soul.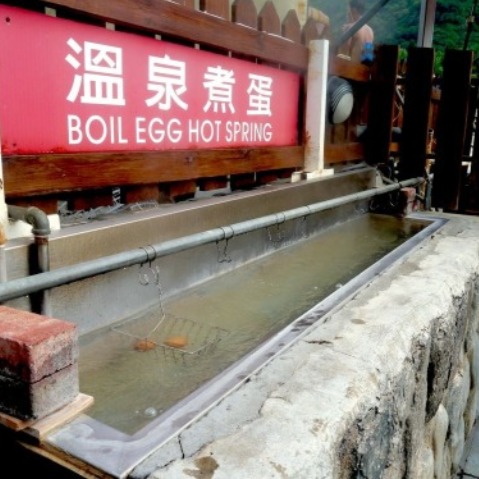 Hot Spring Egg Boiling Area
Here, you can boil eggs in the high-temperature hot spring. The cooked egg yolk will be rich and creamy. It is a yummy, fun and unique activity to do.
---